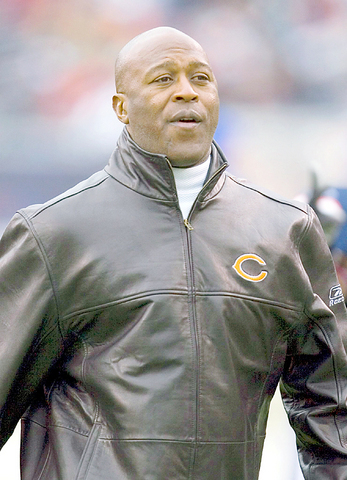 Last night a historical night in sports history. Lovie Smith and Tony Dungy became the first and second black NFL head coaches, respectively, to win NFL championship games and propel there teams to the Super Bowl. Which I have taken the liberty of renaming
The Soul Bowl.
I call it the Soul Bowl not only because of the brothers leading the teams but because both are strong men of faith and they have always carried themselves with christian dignity in a time when being christian is rarely respected. They are two men that I will not hesitate to point to as persons that all young men black, white, or whatever pardon me all young PEOPLE can admire.
It is also fitting that the two men are best friends. You could catch Lovie at the colts wild card game and it is reported that the two speak every Monday. I would love to hear what these two discuss in today's conversation.
Lovie's success is also a testament to Tony Dungy's greatness as a teacher and a mentor. Lovie was an assistant coach with the Tampa Bucs. Very interestingly Herm Edwards was also on that team. Do your thing Tony!
So many stories in this some of you may or may not know that the owner of the Chicago Bears recieved the
George S. Halas
trophy for the NFC championship win. A trophy named for her father and former owner and the initials "GSH" that appear on the Bears Jerseys. What a feeling it must have been to recieve a trophy that was named after your late father.
Great games last night. I am praying for a great superbowl. Anything would be better than last years travesty. Thanks officials, hopefully this year you will let the players decide the outcome. Congratulations Coach Dungy and Coach Smith I wish you both could win next week.